MembersFirst, a leading provider of digital solutions for private clubs, has been awarded the Golf Inc. Top Tech Award for 2022. The award recognizes MembersFirst as one of the 10 most exciting and innovative new tech offerings in the private club industry over the past few years.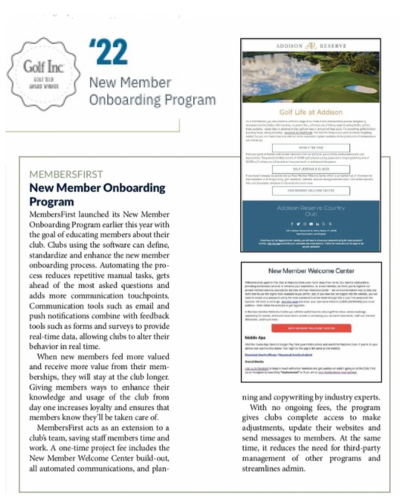 New Member Onboarding Program
In early 2022, MembersFirst launched a new member onboarding program designed to function within a club's MembersFirst website. The program features a new member welcome center, an automated communications series, and planning and copywriting performed by a team of experts in club marketing. The program is designed to deliver a consistent process of familiarizing new members with their club's amenities and programs to ensure they are engaged by the club early and often.
"From the planning stage to launch, the collaboration was seamless and organized, and [MembersFirst] came to each meeting with really helpful ideas. I never felt like they were taking a "one size fits all" approach and we definitely felt like we had flexibility throughout the process."
-- Kerry Strassel, Director of Marketing | The Cornell Club-New York (Pilot client launch September 2021)
Revolutionary Approach to New Member Onboarding
This approach is ground-breaking for the private club industry. No one else offered the same service, which helped with early success. The New Member Onboarding Program utilizes features of the MembersFirst software that tie in the member's experience with management tools for club administrators. Communication tools such as email and mobile app push notifications, coupled with feedback tools of forms and surveys, provide real-time data so clubs can alter their behavior in real-time.
"For our new members, [New Member Onboarding] provides that continual personal connection to ensure our new members are successfully acclimating throughout their first year. In addition, our current members have shared that the Welcome Center is a 'favorite' area on our member site." -- Tesha Vann | Membership & Marketing Director, Tradition Golf Club (Program launch January 2022)
Creating Efficiencies for Club Staff
Historically, club staff is tasked with creating retention plans to help reduce attrition. With this, clubs have aspired to have manual processes that check all the boxes in onboarding, but there are too many ways this can fall through the cracks when dealing with day-to-day operations. In addition, the membership growth that the industry has experienced has given clubs a sense of urgency to ensure they are retaining their new members. One way to do that is to focus on the membership experience, from day one, in a new way. The MembersFirst New Member Onboarding Program highlights educating members about their club using digital technology. Clubs partnering with the MembersFirst Team will gain access to define, standardize, and enhance the new member onboarding process. This will remove the repetitive manual tasks to save time, get ahead of the most asked questions, add more communication touchpoints, and automates the process.
"Since the introduction of the New Member Welcome Center on our website, members have embraced it as an interactive resource for learning about their new club environment! Personalized emails that highlight a specific amenity in the club provide an opportunity for the member to explore those areas of individual interest at their leisure." -- Denise Saari, Membership/Marketing/Communications Manager| Addison Reserve Country Club (Program launched February 2022)
Positive Feedback Since Launch
When new members feel valued and are provided more value, they will stay at the club longer. The MembersFirst New Member Onboarding Program has had nothing but positive feedback since launching. Ways to enhance new member knowledge and usage from the day they start using the club will make a long-term financial impact for the clubs adopting a New Member Onboarding Program. This program is a turnkey solution for the golf industry to enhance the in-person member experience. MembersFirst is an extension to our client's team, providing minimal time for staff to commit to this program. It is affordable as it is a one-time project fee that includes the New Member Welcome Center build-out, all automated communications, planning, and copywriting by industry experts.
To learn more about the success of this program, check out the Country Club of York's Member Onboarding Case Study.
Start Evaluating Your Onboarding
The MembersFirst New Member Onboarding Program is a game-changer for the private club industry. It provides an affordable and efficient turnkey solution for clubs to enhance the in-person member experience.
If you want to improve your new member onboarding process, consider trying our New Member Onboarding Evaluation. It's a great way to assess your current process's effectiveness and identify improvement areas.