It's worth mentioning that in a few short days, it marks the one-year anniversary of the Enhanced Lottery Tee Times at MembersFirst, which has proven to be a tremendous success. In April of 2022, MembesFirst successfully launched Enhanced Lottery functionality which is fully embedded with its Tee Sheet, Communication and Website Applications.
With the cooperation of Medinah Country Club we felt the need to change the overall outlook on how lotteries are configured, managed, and accepted.
The early response from the core group of clubs utilizing the solution has produced streamlined operations with on-demand functionality, time saving tools via point of sale integrations and member/staff satisfaction with the easy to understand booking interfaces.
Challenges in the Golf Industry and the Need for a New Solution
It's no secret that the golf industry has experienced a massive boom. The rapid growth presented many positive challenges as membership continues to overflow, revenue remains strong, and rounds, while down a touch over last year, remain elevated. The global change in lifestyle has introduced an entirely new generation to experience the sport we all love and offers additional rounds for those already loyal players. To further validate this growth, our tee sheet rounds from 2019 to 2021 grew by over 200%.
While the challenges for the most part were positive, they did present a real issue, supply vs. demand for tee times. Pro shops were faced with finding ways to appease long standing members and new eager players. As expected, the traditional way of finding tee times, where everyone flooded the sheet at 7 AM, resulted in frustrated members and unnecessary stress on staff. There simply were not enough primetime spots available for everyone. Then mix in the tech savviness of the new generation, long-time members who stood by their club for years were suddenly at a disadvantage in getting tee times.
Changing the Outlook on Lotteries
While lotteries are not new to the golf world, they have been viewed at some private clubs as a negative tool, cumbersome to arrange and didn't offer the flexibility needed to successfully manage the day-to-day, on the fly changes of golf operations. In speaking with various organizations, MembersFirst felt the need to change the overall outlook on how lotteries are configured, managed, and accepted.
Features and Flexibility of Enhanced Lottery Solution
With the introduction in April of 2022, our Enhanced Lottery solution built off our "Block" configuration, gives clubs the ability to configure lotteries to be as streamlined as their daily operations. This new solution offers robust configurations across multiple courses and multiple play types, with events running intertwined or alongside their lottery. The flexibility of our blocking system overlaps with the in-depth point structure, ensuring all members get tee times in a fair and equitable manner.
The 7AM rush can be a thing of the past, and a member's anxiety of making a tee time can shift back to making a five footer!
Success Factors of New Technology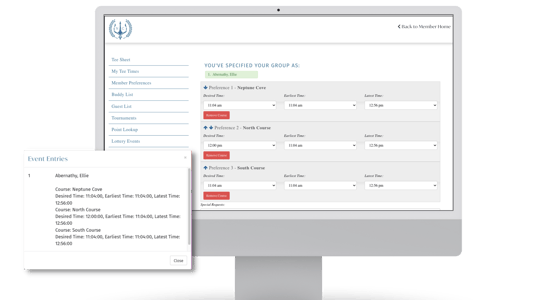 When measuring the success of new technology within a club, we look at factors that enhance the overall impact of the operation. This is done by evaluating the increase in efficiencies, calculating the amount of time saved, and understanding member/staff adoption. Taking these factors into consideration, you get a better picture of success.
April of 2022 saw the introduction of MembersFirst's Enhanced Lotteries and complex lotteries have become easier to maintain and quicker to adopt. Since MembersFirst already had a flexible tee time product with some basic ballot features, the first challenge was to explore how a complex lottery solution fit.
Collaboration with Medinah Country Club
MembersFirst started by working with Medinah Country Club to fully explore the needs of such a tool. Tim Drzewinski, Head Golf Professional at Medinah Country Club, was instrumental behind this new offering, "MembersFirst was fantastic when it came to working with them and keeping me in the loop with everything. They listened to our feedback and acted quickly and efficiently".
Time-Saving Tools and Improved Efficiency
Building a solution with on-the-fly lottery creation, consisting of various play types intertwined across multiple courses, which utilizes a fully integrated point-of-sale and accounting solution with industry leaders, is a true timesaver. Tim quickly identified the same value MembersFirst envisioned, "Daily communication has dramatically improved within our golf operation. Our staff is well aware of what is going on each day. With this web-based tee sheet, our starters can see the tee sheet live as we operate in addition to lottery times, day of walk up tee times. Managing the tee sheet daily has dramatically improved efficiency."
Positive Member Adoption
When asked how the membership has adopted the MembersFirst platform, Tim shared, "Members are happy with the new system. Not only do they get notification emails that are enhanced, but the interface fits perfectly within our website. It works hand in hand with our member directory and everything is synced beautifully."
Encouragement to Explore MembersFirst Tee Times
As the golf industry continues to evolve and grow, the need for efficient and user-friendly technology solutions becomes increasingly important. MembersFirst is proud to offer an innovative solution that addresses the challenges faced by golf clubs and helps them operate more smoothly and effectively.
If you are considering implementing a lottery solution for your club or are unhappy with your current system, we invite you to explore MembersFirst Tee Times. Our solution is fully customizable to meet the unique needs of your club and provides a seamless user experience for members and staff.
By utilizing our powerful lottery solution, you can eliminate the frustrations and stress associated with traditional tee time booking methods while also increasing efficiency and improving communication among staff and members. With the added benefit of point-of-sale integration, managing your tee sheet has never been easier.
Don't settle for outdated technology that causes more headaches than it solves. Contact us today to learn more about our solutions and how they can benefit your club.
Request Demo