HAVE AN ORGANIZED & USER-FRIENDLY WEBSITE
As the end of Q1 of 2023 quickly approaches, this is your sign to know it isn't too late to reflect on the state of your website and make some plans to see success in updates you want to see. Making sure your website is organized and user-friendly will help your members and prospect visitors be attracted and engaged and make it easier for you to find and update your content.
Use these tips on organizing your website content to make it easier to manage and keep your members and prospect visitors returning for more.
Are you a MembersFirst Customer? Get Helpful Links to complete all of these tips in the Learning Center.
TIP 1

|

AUDIT YOUR WEB PAGES
Take an inventory of all the content on your website. This can help you identify any gaps or overlaps in your content, as well as identify any content that is out of date or no longer relevant. This is a great opportunity to delete or update any old or irrelevant content.
Auditing tasks can sometimes feel daunting. Start with dated files and content on your site to begin your cleanup.

After this, take one page at a time to see if there are any quick fixes, like image changes based on seasonality, outdated membership offerings, or even outdated menus. If your club goals are changing, your content needs a new layout, or you are unsure how your site is doing, start with a Website Redesign Checklist to evaluate your website.

TIP 2 | CLEAN UP FILES AND IMAGES
Once you have a clear picture of the content on your website, it's time to start organizing it. Create and organize with a file hierarchy. If there are misplaced files, move them to the appropriate folder under the most important topics. This will help you navigate your site more efficiently and find the content you are looking for when trying to reference it in the future.
TIP 3 | ORGANIZE BY ARCHIVING YOUR OLD EMAILS
Keep your club communications organized by utilizing the Mail Archive features on the member side of your website. This will provide you with a quick and easy way to view past emails sent and the content included in your emails. This will save you and your members time looking for past information.
If you have a large amount of communications, consider using Message Groups to further refine your content. This will enable an archive page to filter messages by a group you define. A typical example is to group messages by their relevant department (i.e., Golf, Dining…etc.). Then messages will be listed underneath a subheading with the group name.
Having an organized place for Members to look back at communications that were sent can be helpful throughout the year. Some members may opt out of receiving emails at all but still want to have a way to stay up-to-date on communications.
TIP 4 |

SET UP YOUR CLUB CALENDAR
Managing the club's calendar of events is important to ensure your members know what's happening at the club and when. First, identify all the annual events you can duplicate from last year into your upcoming 2023 season.
Using copy functionality within your Calendar of Events module will save you time by duplicating existing events instead of creating new ones from scratch. Each event copy should be linked together on the administrative side of the website so you can easily update the whole series of events instead of just one at a time.
TIP 5 |

MAKE A PUSH NOTIFICATION PLAN
Save time by creating content on your member website and tagging the info to display on the website and the mobile app. After flagging all of your events and important information to share with members on your website and mobile app, create a plan to use push notifications to enhance the member experience when engaging with the club digitally.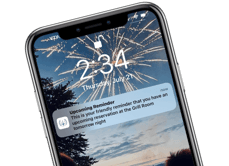 MOST COMMON CLUB PUSH NOTIFICATIONS:
Weather-related events, including course conditions
Clubhouse openings and closings
Upcoming events and when they are opening for registration
Announcing new amenities or services
Discounts or sales at the pro shop
By following these tips, you can help ensure your website is well-organized and easy to navigate for your member, prospect, guests, and website administrative team.