Wayland, MA - May 7, 2014 ‐ ThePlazaClub.com marks another 'Best in Class' win for interactive web design from MembersFirst. The website is a showpiece for the The Plaza Club's 1.8 million dollar renovation to its business, dining, and social facilities in the heart of Honolulu.
Plaza Club General Manager Dan Bower, said, the investment was massive. It allowed us to upgrade our standards of services and reposition our stature in the community. It was obvious our website needed to match our new brand.
The Plaza Club was great to work with, said MembersFirst's Director of Interactive Services, Ryan Maione. They not only allowed us to think outside the box, but encouraged us to do so. You see this this the moment you land on their homepage.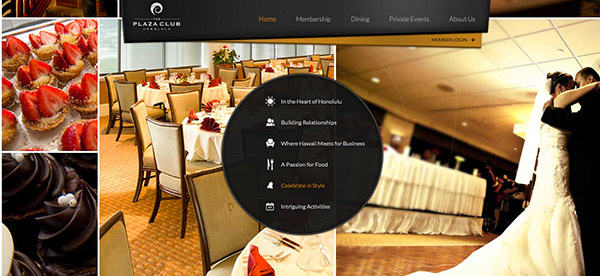 The homepage features large-scale photography behind a button, front and center on the page, inviting the user to "Explore". Touching the button on an iPad or mousing over it on the desktop reveals a myriad of ways the club is central to practically all of Hawaii's business and community leaders. Each path invites the user deeper into the site through dramatic imagery and calls-to-action.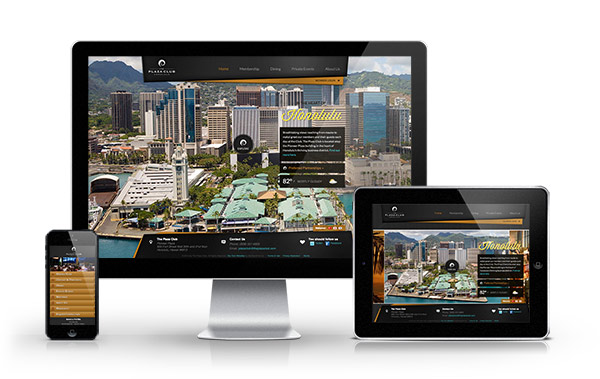 We were able to put our years of experience building club websites to work here, said Maione. We kept the main navigation succinct, included quotes and testimonials throughout, and offered many opportunities to request information, make reservations, or signup for membership tours.
Bower pointed out another useful marketing tool on the site: the calendar of events. If somebody is interested in membership they're going to want to see what's happening at the club; what it's like here.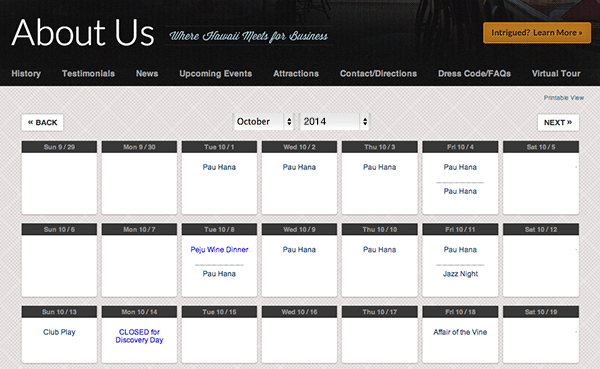 We make one version of the membership calendar available on the guest side of our site. Sometimes the details are hidden for members' eyes only, but it still provides a snapshot of the kinds of events we're creating. It shows we're not just business; we have a full social calendar as well.
Bower said the website is a vital tool for communicating with all members, but especially so to the incoming generation of younger ones. Streamlining our communications gave us the ability to better connect with this core group of younger professionals, and our event attendance and overall participation in club activities are much improved by it.
We have a number of members who only correspond with the club via the website.
As far as other members and employees, Bower said they're pleased too. People have been ecstatic; they've found it to be very useful. We have a number of members who only correspond with the club via the website. We see in the new membership inquiries we're getting they're more polished; better informed. The new site is a better qualifier for potential members.
Of course, an effective website like The Plaza Club doesn't come together without hard work from both the agency and the club. Organization is key, said Bower. Even with the six hour time difference we were all able to come together, work, and respect each other's deadlines. MembersFirst knows what they're doing. They worked hard on it; I can't imagine it wouldn't win an award.
About The Plaza Club
Founded in 1979, The Plaza Club is Hawaii's premier private business, dining, and social club. Located in the heart of Honolulu, it's the perfect place to exchange ideas, build connections, or close important deals. With an unbeatable view, an award-winning chef, and unmatched audio-visual offerings, it can be your office away from the office, or a place to unwind. For more information on The Plaza Club, visit www.theplazaclub.com.
About the Interactive Media Council
Interactive Media Council, Inc. (IMC) is a nonprofit organization comprised of leaders and experts from various areas of web-related business who are dedicated to elevating the standards of excellence on the Internet. IMC is the primary sponsor and governing body of the Interactive Media Awards.