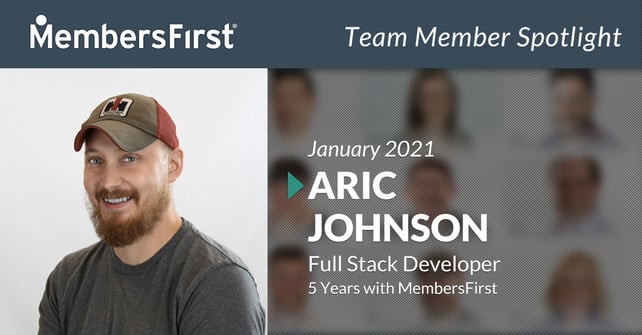 Get to Know Aric
Current Residence: Thomasville, North Carolina
What do you like to do when you're not at work?
Be outside. Gardening, hiking, yard work - anything under the sun.

What's something people may not know about you?
Most people know me as a shy person, who doesn't generally like being in front of people. In high school I was asked to fill a role the week before a play, because no one else was available last minute. I ended up in 3 plays that year, including a center stage singing part in Annie. As it turns out, I wasn't half bad, but I prefer the solace of the tech booth.

Do you have any pets?
2 dogs, a German Shepherd (Heidi) and a Border Collie mix (Doc Holiday) both of whom found us before ending up in a shelter.

What is your favorite sport and/or team?
Hands down, the Boston Bruins. One of my fondest memories as a kid was going to bed listening to the games on the radio.

If you could learn to do anything, what would it be?
I'm very intrigued by old world artisan skills, like basket weaving and blacksmithing. If I had to choose 1 particular realm, I'd really like to learn the process, start to finish, of making clothes from wool. In a time where we've grown so detached from the origin of our daily needs, I believe learning these skills is very grounding.

What or who inspires you?
Experts in a task really inspire me. I'm a big fan of the Joe Rogan podcast because he interviews people from a diverse range of topics who are at the top of the game. Seeing their passion, how they continue to learn and reinvent themselves, and affect change in their worlds inspires me to grow and excel in the things I'm passionate about.

Position
Full Stack Developer

Years with MembersFirst
5

Briefly describe your role/responsibilities
My job is to make our software as easy to use as possible, and squash any bugs along the way.

What is your favorite thing about working at MembersFirst?
In my opinion, MembersFirst knows what creates a really good business. We have quarterly company meetings to go over the state of the company, and 90% of the discussion is about the team members, their accomplishments, and positive feedback from our clients. When your boss cares about you as much as your closest friends, it's incredibly motivating.

What's been one of your proudest moments working at MembersFirst?
When I started at the company, I was very green in the industry and only did front end development. Being moved to a full stack position, and given the room and guidance to grow was pretty awesome.

How do you define success?
For me, success isn't about what I accomplish. It's about what I can pass on. The more that I can enable my team, or my kids, to do for themselves through my learning, experience and failure, the more valued I feel. In life, experience is the most valuable currency, but like money, you can't take it with you when you leave.

Why should a club work with MembersFirst?
Times change, needs change, software comes and goes. People and experience are what matter. MembersFirst isn't a website company. It's a dedicated team of folks that keep constant attention on the pulse of the industry. Our goal is to provide your team with every tool you need, whether it's our own tools or advice from our experience with others, so your team can meet the waves of change head on.


Learn more about our products