Boston, MA - September 3, 2015 ‐ Great Harbor Yacht Club (GHYC) is an exclusive member-equity yacht, tennis, and swim club on picturesque Nantucket harbor with great views and family-friendly programming. Their public website, designed by MembersFirst, now claims the honorable distinction of recognition by the Interactive Media Council, a nonprofit organization of leading web designers, developers, and programmers around the world.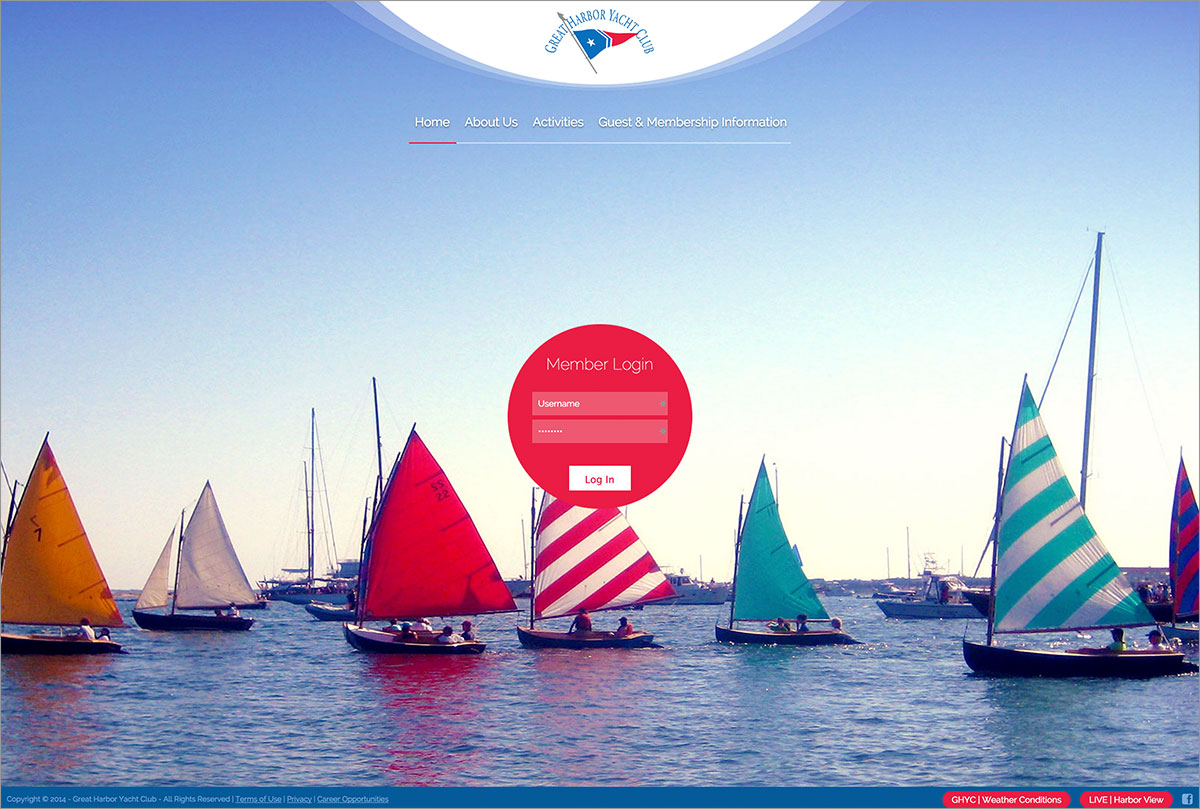 The club was implementing a combined backoffice+website solution from another company, but wanted a more dynamic and strategic approach for the site's frontend. MembersFirst, winner of countless awards for bringing private club brands to life online, was chosen for the task.
The club's Director of Membership Services, Megan Maltby, said, We're a newer, modern club, but we try to feel like home to our members. We did a demo with a MembersFirst executive and and liked his take on where she should take it – large format pictures in a single long-form page. It plays with the colors of our logo in fun ways. It's fresh and modern and what we want to represent.
Rather than going with a handful of pages on the frontend of the site, all the content was consolidated into a single responsive web page that looks great on all devices, from smartphones to 4K/UltraHD displays. Pageless web design, as it is sometimes called, is a rarity in the club world but has been popular with marketers for years thanks to its tendency to yield higher lead generation rates. MembersFirst strategically designed a clear call-to-action area at the bottom of the page, which Maltby says has been effective.
We will definitely recommend it to other clubs considering redesigning their websites.
We actually ended up developing another site in a similar style to showcase our facilities and food & beverage capabilities better than we could on the member-side platform, said Maltby. It was such a smooth process. My project manager and I were definitely on the same page with what we were trying to convey. We will definitely recommend it to other clubs considering redesigning their websites.
GHYC.com was bestowed an Outstanding Achievement award in the Interactive Media Awards' Lifestyle category.
About Great Harbor Yacht Club
GHYC was founded in 2003 with the vision of creating a community that shares a love for Nantucket while providing extraordinary amenities and programs in a relaxed setting. The clubhouse was commissioned in 2009, becoming Nantucket's only club both owned and managed by the members.