Boston, MA - November 12, 2014 ‐ MembersFirst, an award-winning software and website provider to private clubs, today announced it has entered into a strategic partnership with Golf Genius Software, the leading provider of cloud-based golf league management & golf tournament software. MembersFirst will integrate Golf Genius into its core offering for golf clubs and sell the full Golf Genius subscription service directly to their clients.
Private golf clubs use Golf Genius's cloud-based software services to quickly and easily manage leagues, tournaments, and outings. Golf Genius will fully integrate with MembersFirst's member roster and tee time systems, creating a completely seamless solution for MembersFirst clients.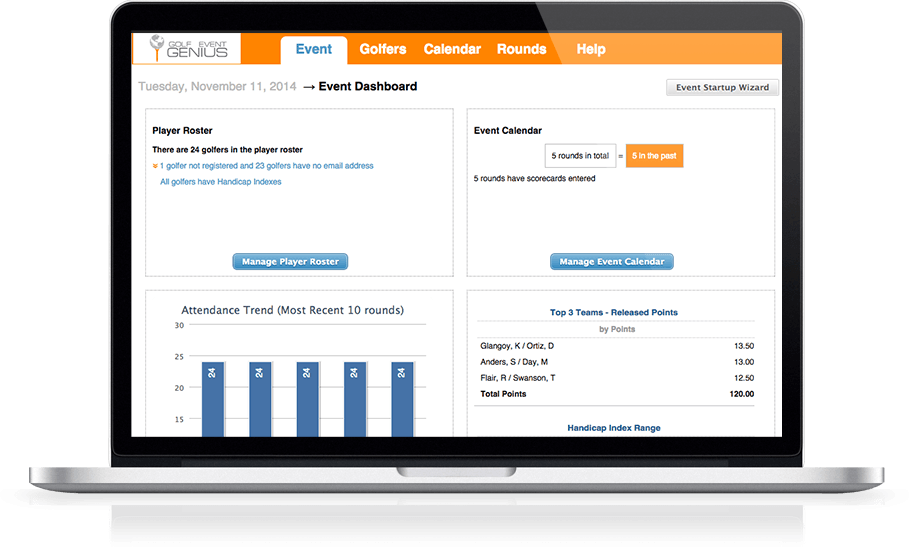 This development is another step towards MembersFirst's goal of creating the most highly connected open system for all clubs—an ideology, they point out, that empowers people to select the best options for their particular club. The MembersFirst offering will allow clients to take advantage of all of Golf Genius's capabilities within their current MembersFirst website, including live scoring via the free Golf Genius mobile app.
Chris Carpenter, the PGA Director of Golf at Nashawtuc Country Club in Concord, MA, has been a MembersFirst client for fourteen years and more recently became a customer of Golf Genius. These integrations are not just going to make the member experience better, said Carpenter, but they'll also reduce the workload in the golf shop—and minimize the opportunity for mistakes. Members will be able to register for events online and have those registrations flow seamlessly into the MembersFirst tee sheet and Golf Genius tournament system.
Our members enjoy the interactive and professional feel of Golf Genius live scoring, Carpenter continued, and this newly announced integration allows us to present Golf Genius tournament results for current and past events within our MembersFirst website.
According to Michael Zisman, CEO of Golf Genius Software, while Golf Genius has been in the golf league and tournament management market for a number of years, the focus was originally on public courses and other organizations. We're excited with the receptivity we've seen after entering the private club space just seven months ago, said Zisman. MembersFirst is already an important partner for us and we look forward to working with their top-notch team to deliver a seamless experience to our joint clients.
As a member of several clubs and an active tournament player, as soon as I experienced the Golf Genius solution I knew I wanted to bring it to our clients.
Kevin Kopanon, President and CEO of MembersFirst, says both companies share similar philosophies. At MembersFirst we wake up every morning with the same goal in mind—how can we make a difference for our clients and their members. As a member of several clubs and an active tournament player, as soon as I experienced the Golf Genius solution I knew I wanted to bring it to our clients. Golf should be fun no matter what level you play at and Golf Genius is a tool that not only streamlines tournament administration but, most importantly, delivers a WOW to participants. We're thrilled to partner with a great product and a great group of people.
About Golf Genius Software
Golf Genius Software offers affordable, fully-featured cloud-based software for organizing and managing golf events, leagues, and trips. The breadth of Golf Genius ranges from events and leagues at public and private facilities to charity events, corporate outings, member-guests, buddy golf trips, professional championships, and beyond—delivering less work for those managing and more fun for those playing.