Boston, MA - August 18, 2014 ‐ Hilary Scott has joined MembersFirst—the club industry's leading web-based solutions and services provider—in the new role of Director of Marketing Services.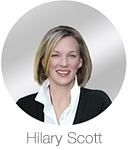 Responsible for leading the Agency Services group, Scott will work in partnership with clubs, communities, and other member-based organizations to develop comprehensive strategies for their marketing and communications programs. Most recently Hilary served as the Membership & Marketing Director at Santa Lucia Preserve in Carmel, CA.
Scott will coordinate the in-house expertise of the MembersFirst team (copywriters, CRM administrators, webmasters, social media specialists, designers, etc.) to deliver customized marketing solutions.
Hilary's return couldn't come at a better time, said President & CEO, Kevin Kopanon. Our clients are looking for better ways to increase member retention, acquisition, and revenue. Clubs look to work with people who understand their business. Hilary is another great addition to our growing team of club industry professionals.
As they say here in Boston, I'm wicked excited.
As they say here in Boston, I'm wicked excited, said Scott. I've worked on the frontlines so I get the challenges clubs are facing with marketing and communications plans. I've also worked with MembersFirst and have seen the way they help clients be more effective. The services we're expanding will go a long way to support club marketing efforts. I can't wait.