Wayland, MA - August 27, 2013 ‐ MembersFirst (a leading web design, software, and marketing agency for member-based organizations) and Addison Reserve (ranked amongst the topmost country clubs in the nation) were awarded 1st place for a lifestyle website in the Interactive Media Awards competition.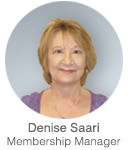 When Addison Reserve completed their $18 million renovation, it was clear their website was going to need a major update as well.
Their MembersFirst Account Executive, Robin Michael, gushes, the renovation is breathtaking. Michael McCarthy, their CEO, is a big trendsetter in the industry. He's always ahead of the curve - including with this renovation. It wasn't approached purely from an aesthetic point of view, but from a service and lifestyle point of view as well.
Membership Manager, Denise Saari, one of the primary point people on Addison's side of the website project, says The renovation was huge. When prospective members visit, it's clear Addison Reserve is the place to be. We needed a new website to get that across to people who haven't visited yet.
Our project manager at MembersFirst, Kari Bass, did a great job in helping us get that message across, says Denise. It was a good team mix. Everyone on both sides put a lot of thought and work into everything from the larger general concept to the smaller tweaks and edits.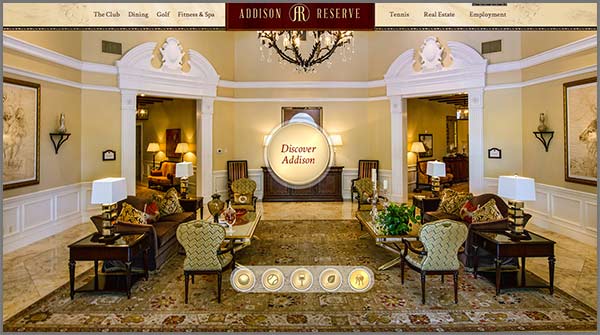 Kari explained the site's unique interactive homepage - a mosaic of photos, videos, and information. To showcase Addison as the place that has everything, Kari began, we invite website visitors to 'Discover Addison'; with a big button right in the center of the homepage. Visitors can't help but click it, and when they do it transforms the homepage into an overview of life at the club. The navigation underneath lets them cycle through 'lifestyle views' for golf, tennis, dining, and relaxation.

Kari also worked with Stephen Holtz, Addison's IT Director. Kari says Addison put a good team together for the project. Steve was extremely knowledgeable about the web and knew exactly what they wanted to get out of the site. Steve and Denise covered all bases which kept things moving along smoothly.
When they found out they won first place in the Interactive Media Awards, Stephen says we were all very excited. We know how fabulous the site is but we were still surprised; there was a lot of competition.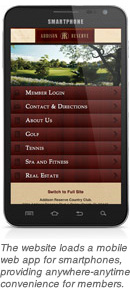 Kari, confident, matter-of-factly states it won the award because it's awesome. I've loved this site from the beginning because it was doing something that the industry hadn't done before. Just like how Michael [McCarthy] approached the renovation. It's beautiful but it's not just about the looks; it's smarter than that.
The Best in Class award for the website joins a long line of accolades awarded to both MembersFirst and Addison Reserve. For more information on creative web design & marketing services from MembersFirst, visit www.membersfirst.com
About Addison Reserve
Addison Reserve of Delray Beach, FL is a Platinum Club of America and was ranked the 4th most admired Residential Community Club in the United States in 2012. A Platinum Club designation is the ultimate recognition of club excellence - equivalent to the esteemed Mobil 5 Star rating of resorts and hotels. Only three percent of our nation's clubs earn this honor. Home to 717 luxury single family homes situated on 653 lushly landscaped acres, Addison Reserve is the premiere South Florida country club setting. Visit www.addisonreserve.com for more information.
About the Interactive Media Council
Interactive Media Council, Inc. (IMC) is a nonprofit organization comprised of leaders and experts from various areas of web-related business and dedicated to elevating the standards of excellence on the Internet. IMC is the primary sponsor and governing body of the Interactive Media Awards.