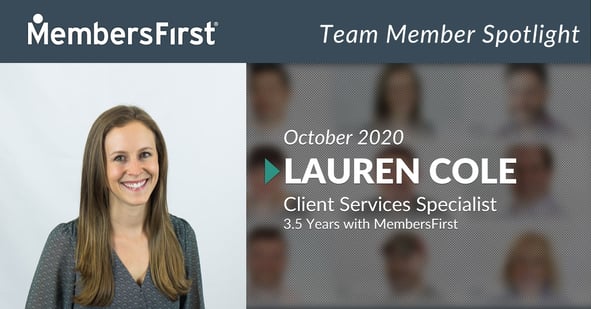 Get to Know Lauren
Briefly describe your role/responsibilities:
Helping clients and other Client Services Managers find creative solutions to issues while maximizing the potential of their MembersFirst websites.
What's the best thing about your job?
Working with both our amazing clients and our incredible team - it really is such a pleasure!
What's been one of your proudest moments working at MembersFirst?
It's been so impressive to see the MembersFirst team not only survive—but excel—during this difficult pandemic. Every single person has proactively asked, What can I do to help? ...Perfect. What else can I do to help? That makes me proud to work here!
What motivates you to wake up and go to work?
It's fun to meet a different challenge every day in the Client Services world. You never know what you will find when you log-in at the beginning of the day!
What's something people may not know about you?
I'm an identical twin, and we both had children on the same day, one year apart!
Do you have any pets?
Yes, a "Potcake" dog named Cooper who we rescued from Turks & Caicos.
What do you like to do when you're not at work?
Trying out new recipes!

Here are my two favorites this fall:
Herbed Pork Tenderloins
The BEST Apple Pie (The only time I've ever made a perfect apple pie.)
What is one goal at MembersFirst you are working on?
To be as useful as possible to the company and our clients as a whole, especially in documenting and streamlining the processes for our service offerings.
One of my current favorites is our Holiday Help area in the client Learning Center, intended to benefit our clients as this busy season approaches, with its own set of unique challenges in 2020.
Why should a club work with MembersFirst?
In every interaction, and in every aspect of your working relationship with MembersFirst...we're not just your vendor; we're your partner.
Learn more about our dedicated client services team