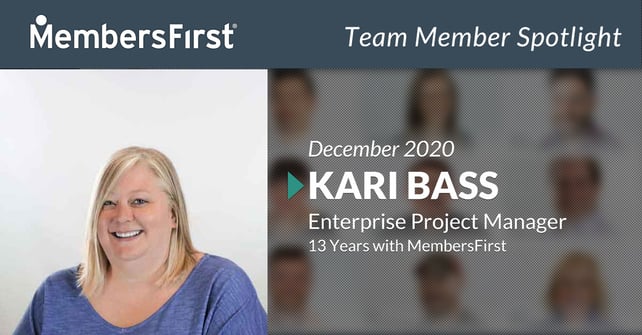 Get to Know Kari
Hometown: Norwood-Young America, MN
Current Residence: Puyallup, WA

Briefly describe your role/responsibilities.
I work with clients to manage the implementation of their new website services to their members.

What's been one of your proudest moments working at MembersFirst?
I've had opportunities to work on some corporate level projects that have benefited all of our clients.

What do you like to do when you're not at work?
Singing in my church worship team once a month, cooking, and reading. Most of my extra time is spent with my son and his various sports activities.

What's something people may not know about you?
I was part of a handbell choir. Went on to learn how to play duet pieces which I've done for a few weddings along with a few solo pieces even though I said I'd never do solos in front of people, I have.

Do you have any pets?
We have one dog, a lab named Bella.

If you could meet anyone, living or dead, who would you meet and why?
I grew up next door to my grandma, I'd want more time with her rather than meeting anyone new.
What was the last experience that made you a stronger person?
Going through training to provide one-to-one care to those experiencing a difficult time in life, such as grief, divorce, job loss, chronic or terminal illness, or relocation. The time during this training where we focused on grief I had 2 major losses in my life. All of this resulted in my walking alongside someone diagnosed with cancer. My past has hit many of the areas and I strongly believe even the most difficult times can have blessings in disguise and you grow through each experience - good and bad alike.


What or who inspires you?
People who see gratitude and joy even in the midst of struggle and difficulty. People who serve others.

What is your favorite thing about working at MembersFirst?
The team—I love the people here.

How do you define success?
Building relationships with clients so they think of me as a member of their team. Being a Project Manager - delivering projects on schedule or ahead of schedule.
Why should a club work with MembersFirst?
MembersFirst emphasizes customer service, we truly want to be your partner, and I think you'll find the team just as amazing as I do.


Learn more about the MembersFirst website experience.